We launched the MANIFEST 40 in October 2005, built from the stocks that most frequently appear on subscriber dashboards, and this active and continuously maintained tracking dashboard has delivered a rate of return of 9.2% since inception.
The 40 stocks are something of a barometer because we know that these community favorites are not simply followed … most of them are also widely owned, with considerable diligence and vigilance. Bottom line? On an annualized basis, your community favorites have beaten the Wilshire 5000 by +3.4 percentage points — a relative return that nurtures smiles and bolsters the returns of our actual portfolios.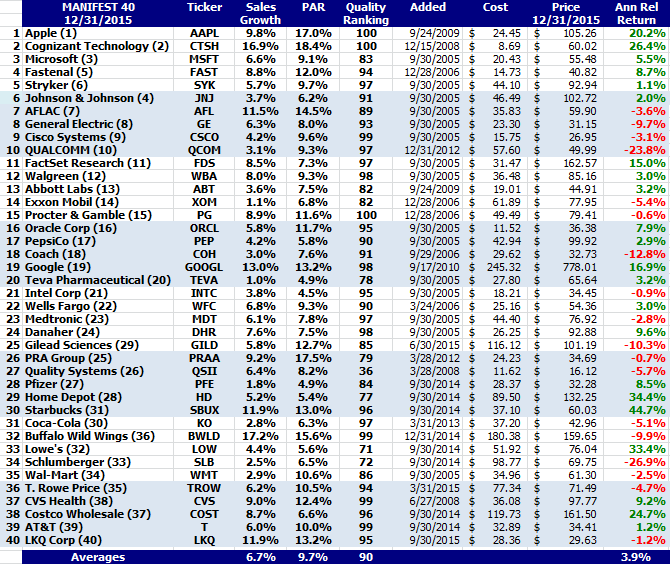 The average sales growth forecast of the portfolio (6.7%) suggests that it is dominated by the "Up, Straight and Parallel" core contributors. Quality (90) is solid and the overall return forecast (9.7%) is positioned to outperform the Wilshire 5000. We'd like to see the community discover and follow some smaller, faster-growing companies.
Performance Results
The absolute rate of return for the trailing 10 years is 9.2%.
Capturing Attention: Chargers
Gilead Sciences (GILD) moved from #29 to #25 as most of the list remained rather steady. Fastenal (FAST) shuffled up to #4 and Johnson & Johnson (JNJ) dropped a couple of positions. The results of $100 positions investing in any of the Top 40 companies can be viewed at any time at:
http://www.manifestinvesting.com/dashboards/public/manifest-40
Our MANIFEST 40 is a celebration of collective excellence in stock selection, strategy and disciplined patience.
"We have always believed that the collective decisions made by our community of long-term investors are worth huddling over … a place where ideas are born."