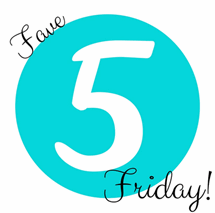 Fave Five
Here are five stocks that could be studied going into the weekend. They essentially represent a listing of stocks with favorable short term total return forecasts (1 year, according to Analyst Consensus Estimates, or ACE) combined with strong long-term return forecasts and good/excellent quality rankings. This week's Top One Percenters are Five Below (FIVE), Akamai Technologies (AKAM), Jazz Pharmaceuticals (JAZZ), Bank of Nova Scotia (BNS-TO) and Cognizant Technology (CTSH).
Context: The median 1-year total return forecast (via ACE) is 18.2%. The median 5-year return forecast (MIPAR) is 7.9% (annualized).
Five Below (

FIVE

) is a retailer that offers a broad range of merchandise targeted at the teen and pre-teen customer. All products are priced at $5 or below. Its products are in the following category worlds: Style, Room, Sports, Media, Crafts, Party, Candy, and Now. And here we pause to catch our breath because many investors are loathe to consider fad-sensitive apparel-related stocks. (1) We'll only retain in the tracking portfolio for as long as it makes sense to do so. Consider it a prenuptial promise. (2) If you need a reminder about why this might make sense, see: And The Children Shall Lead Us… — note the returns to shareholders from some of these retail companies that we often avoid. (3) Five Below was featured prominently among our 50 Best Small Companies for 2016 holding down the #38 position.
Akamai Technologies (

AKAM

) provides cloud services for delivering, optimizing and securing online content and business applications. It provides its services to improve the delivery of content and applications over the Internet.
Cognizant Technology (

CTSH

) is an old friend to most of us by now. The company is a provider of information technology, consulting and business process outsourcing services. Its core competencies include Business, Process, Operations and IT Consulting, Application Development and Systems Integration, Enterprise…

CTSH

is the second most widely-followed company by our subscribers (

AAPL

is still #1) and was added to the

MANIFEST

40 on 12/15/2008. (

CTSH

has beaten the market by +22.9% — annualized — since then.)
Weekend Warriors
The relative return for the Weekend Warrior tracking portfolio is +2.5% since inception.
Here are some links to fairly recent monthly stock features, Round Table discussions and/or analysis updates for companies in the tracking portfolio:
Apple (

AAPL

)
Stericycle (

SRCL

) Feb-2014 Round Table nomination by Nick Stratigos (starts at 18:33 of session)
Transactions
Skyworks Solutions (SWKS) was removed, or "sold" from the tracking portfolio after beating the market by 10 percentage points over the last few weeks. The SWKS PAR had dropped below our Sweet Spot.
Tracking Dashboard: https://www.manifestinvesting.com/dashboards/public/weekend-warriors
Create an account and launch a FREE, fully functional 30-day test drive at http://www.manifestinvesting.com today.  Explore features like the Stock Search, Dashboards and Sandboxes … and our weekly features that highlight threats and opportunities for stock watchers and shareholders. The weekly features present a number of actionable stock study ideas. We'd be happy to give you or a friend a FREE test drive. Let us know via manifest@manifestinvesting.com (All we need is name, email address and zip code to establish an account.) Discover Manifest Investing today for only $79/year.  Create your account today.