This Week at
MANIFEST

(9/23/2016)

If you've ever wondered what a cruise ship class room looks like, here's Christi Powell (Oklahoma City) aboard the Holland Cruise Lines Westerdam doling out another one of her exceptional classes on common sense financial matters. This voyage had two side-by-side class rooms, attended pretty much as you see here. As you can see, it's like any other class room — except for the glaciers, whales, salmon and Alaskan fjords out the window.

Relatively small blocks of time (1 hour each) were carved out during the cruise to present a number of investing-related classes over a span of seven days. It was the first time Manifest Investing had attended and participated in one of these efforts and we came away impressed with the potential. The pace was unhurried and attendees had plenty of opportunities over dinners and while navigating the waters to discuss just about anything. We'll probably explore collaborating with Better Investing and reaching out to some other communities for a Boston-to-Montreal version of this cruise next year. Stay tuned for more details and please send us a note (manifest@manifestinvesting.com) if you'd be interested in exploring more details about a future cruise… and we'll add you to the "Maybe" Manifest. (grin)

There were many highlights and we'll continue the roll out of the handbook chapters we issued to our ship mates in days ahead.
MANIFEST

40 Updates
4. Fastenal (

FAST

)
15. Procter & Gamble (PG)
31. Home Depot (HD)
35. Lowe's (

LOW

)
Round Table Stocks: Chicago Bridge & Iron (CBI), Fastenal (FAST), Tractor Supply (TSCO)
Best Small Companies (None this week)
Results, Remarks & References
Companies of Interest: Value Line (9/23/2016)
The average Value Line low total return forecast for the companies in this week's update batch is 5.0% vs. 5.0% for the Value Line 1700 ($VLE).
Materially Stronger: Ethan Allen (ETH), Bemis (BMS)
Materially Weaker: Sunpower (SPWR), Tractor Supply (TSCO), Tile Shop Holdings (TTS)
Discontinued: Cablevision (CVC), Elizabeth Arden (RDEN)
Market Barometers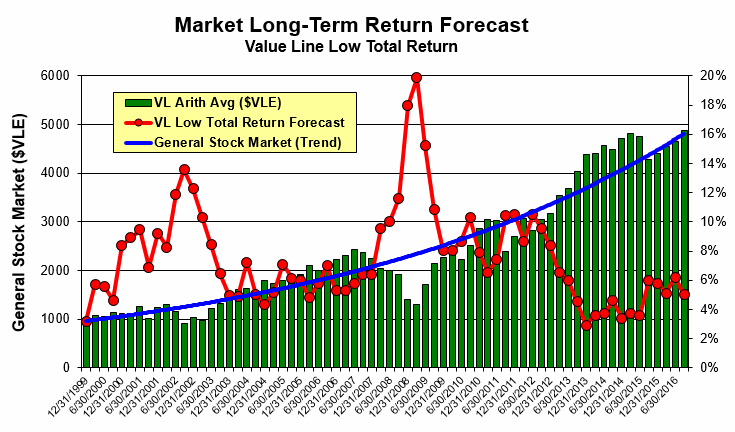 Value Line Low Total Return (VLLTR) Forecast. The long-term low total return forecast for the 1700 companies featured in the Value Line Investment Survey is 5.0%, unchanged from 5.0% last week. For context, this indicator has ranged from low single digits (when stocks are generally overvalued) to approximately 20% when stocks are in the teeth of bear markets like 2008-2009.
Stocks to Study (9/23/2016)
The Long & Short. (September 23, 2016) Projected Annual Return (PAR): Long term return forecast based on fundamental analysis and five year time horizon. Quality Ranking: Percentile ranking of composite that includes financial strength, earnings stability and relative growth & profitability. VL Low Total Return (VLLTR): Low total return forecast based on 3-5 year price targets via Value Line Investment Survey. Morningstar P/FV: Ratio of current price to fundamentally-based fair value viawww.morningstar.com S&P P/FV: Current price-to-fair value ratio via Standard & Poor's. 1-Year ACE Outlook: Total return forecast based on analyst consensus estimates for 1-year target price combined with current yield. The data is ranked (descending order) based on this criterion. 1-Year S&P Outlook: 1-year total return forecast based on S&P 1-year price target. 1-Yr "GS" Outlook: 1-year total return forecast based on most recent price target issued by Goldman Sachs.
Stock Selection & Portfolio Management September 24, 2016 at 9:00 AM ET Indianapolis, Indiana
Ken Kavula & Mark Robertson will be the featured presenters at this all-day educational workshop for long-term investors. Overview of Analysis (We'll actually do a case study — walking through the analysis with exposure to our favorite resources and research.) Common Ground – How investment clubs take care of a portfolio. We'll review portfolio design and discuss management considerations. What is effective stock "watching?" How can we best be vigilant for opportunities and threats to our holdings? Discovery – A demonstration of various screening resources with a look at some of our favorite resources. An Industry Study – Taking a discovery and putting it through its paces to ensure that we're considering (or accumulating and retaining the best of the best) Let's Talk Stocks – An interactive, audience-driven discussion of specific study ideas and case studies.
For more information: Go here.
September Round Table September 27, 2016 at 8:30 PM ET ONLINE
Stocks Featured: TBD
The Round Table tracking portfolio has beaten the market by 3-4 percentage points over the last five years. Consider joining Kim Butcher, Ken Kavula, Hugh McManus and Mark Robertson as they share their current favorite stock study ideas.
We will be continuing the discussion of the relative return-based selling guideline for portfolio management.
Registration: https://www.manifestinvesting.com/events/199-round-table-september-2016
Discovery Club
"Dump your hedge funds and explore their small-cap stock picks."
Small cap is not necessarily small (faster-growing) companies but in general, we like the idea of a nice blend. So yes, we're interested in hunting down some actionable ideas among the most successful investors on our radar screen — seeking companies that aren't on too many radar screens, yet.
The discovery of smaller, promising and faster-growing companies has always been one of our favorite (and rewarding) activities. In that spirit, we're expanding our efforts in this realm. This week, we redouble our efforts to discover some smaller, less discovered companies and add them to our coverage. The EXTENDED EDITION of the Value Line Investment Survey will be the first resource scanned and we'll also take a look at some new positions or significant accumulations among our Best Small Company Funds starting with Brown Small Company.
But it doesn't end with only the smaller companies, we'll also be vigilant for opportunities flagged by reviewing the quarterly filings of idea generation resources like the Renaissance Technologies hedge fund.
This Week's Sources and Suggestions
ITC

Holdings (

ITC

) — Thanks, Marty Eckerle (Temporary Reinstatement)
Value Line Investment Survey
Coverage Initiated/Restored: CalAtlantic (CAA), Fonar Corp (FONR), ITC Holdings (ITC), State National (SNC)
Market Barometers (Continued)
By popular demand, it's probably time to check in on our of favorite, albeit obscure, market barometers.
US New Highs-New Lows ($USHL)
The long-term trailing average for $USHL actually dipped below zero within the past year — and trepidation was a little more rampant. But as shown here, the storm seems to have passed.