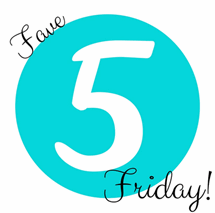 Fave Five (11/4/2016)
Our Fave Five essentially represents a listing of stocks with favorable short term total return forecasts (1 year, according to Analyst Consensus Estimates, or ACE) combined with strong long-term return forecasts and good/excellent quality rankings.
Every year, we remind investors to focus on small company opportunities in the final quarter of the year. Tax-related selling can often provide outsized opportunities — a condition that is amplified among the faster-growing and promising smaller companies. We used to urge investors to carefully mine the Forbes List of Best Small Companies that was published in late October for 36 years. Unfortunately, Forbes discontinued the feature last year. Fret not. We'll be out with our own list of 40 Best Small Companies soon (final edits in progress.) The 2016 collection performed very well for the second straight year.
The Fave Five This Week
This week we're taking a detour to feature the five companies at the top of our 40 Best Small Companies for 2017. As shown here, the 2016 collection outdistanced the Wilshire 5000 by a considerable margin — beating the total stock market for the 8th time in 11 years with an excess/relative return since inception of +4.6%.
Forward Air (

FWRD

)
Mercadolibre (

MELI

)
Meridian Bioscience (

VIVO

)
Mesa Labs (

MLAB

)
Neogen (

NEOG

)
Context: The median S&P price to fair value ratio is 102%.
The Long and Short of This Week's Fave Five
The Long & Short. (November 4, 2016) Projected Annual Return (PAR): Long term return forecast based on fundamental analysis and five year time horizon. Quality Ranking: Percentile ranking of composite that includes financial strength, earnings stability and relative growth & profitability. VL Low Total Return (VLLTR): Low total return forecast based on 3-5 year price targets via Value Line Investment Survey. Morningstar P/FV: Ratio of current price to fundamentally-based fair value via www.morningstar.com S&P P/FV: Current price-to-fair value ratio via Standard & Poor's. 1-Year ACE Outlook: Total return forecast based on analyst consensus estimates for 1-year target price combined with current yield. The data is ranked (descending order) based on this criterion. 1-Year S&P Outlook: 1-year total return forecast based on S&P 1-year price target. 1-Yr GS: 1-year total return forecast based on most recent price target issued by Goldman Sachs.
Weekend Warriors
The relative/excess return for the Weekend Warrior tracking portfolio is +4.0% since inception. 52.5% of selections have outperformed the Wilshire 5000 since original selection.
Tracking Dashboard: https://www.manifestinvesting.com/dashboards/public/weekend-warriors